Jordan Maxwell is an incredible researcher with a fascination for ancient symbols, religion, the occult, world government and religion among other subjects. He has been revered around the world and often referred to as the "Godfather of conspiracy theories". Below are quotes that are not only profound, but timeless. His body of work is controversial in nature and utterly fascinating and captivating.
"We need to wake up, this is serious stuff."
– J Maxwell
---
"Nothing in this world operates the way you think it does.
– J Maxwell
---
Banks do not loan money, governments are not empowered to protect you, the police department is not there to serve you, institutions of higher learning, colleges and educational institutes, are not there to educate you.
– J Maxwell
---
The entire superstructure of civilization in the Western world is a combination of brilliantly put together and planned, well-planned, schemes to direct the minds of the people in such a way as to serve their masters."
– J Maxwell
---
"Ignorance and its denial will, sad to say, lead us down the same road as it did in all past history."
– J Maxwell
---
"People have no idea in the world what is going on."
– J Maxwell
---
"When you think that you know everything, you know less than nothing."
– J Maxwell
---
"Your mind is like a parachute, it doesn't work unless it's open."
– J Maxwell
---
"Politicians run the United States government for their own selfish purposes. They practically control both political parties." What I have said, however, is that they do control both parties, among many other things in the world."
– J Maxwell
---
"Gnosis in Greek means knowledge, or to know. This does not refer to factual knowledge, but to an intuitive or spiritual understanding that comes from experience. The early Gnostics were mystics, people who knew that you could experience God for yourself instead of going into a church and being told what to believe. In Hebrew, to know means to experience, so, according to the Hebrews, knowing God means to experience Him. This is what most all early Hebrews and Christians were striving to do. Unfortunately, the Church got in the way of personal experience, by creating "organized religion." There's a saying which states, "Religion is for the masses, and mysticism is for the individual." If you want to be a sheep and follow along with the masses to get a generic, candy-coated version of your spirituality, then follow the teachings of the Christian fathers. If you want to explore your own individual spirituality, you must go deeply inside yourself, instead of through church doors."
– J Maxwell
---
This is the official website for Jordan Maxwell research materials, where esoteric research lives and the works of Jordan Maxwell can be found. As the quotes reveal, it is the intention of the works to enlighten and serve as guideposts.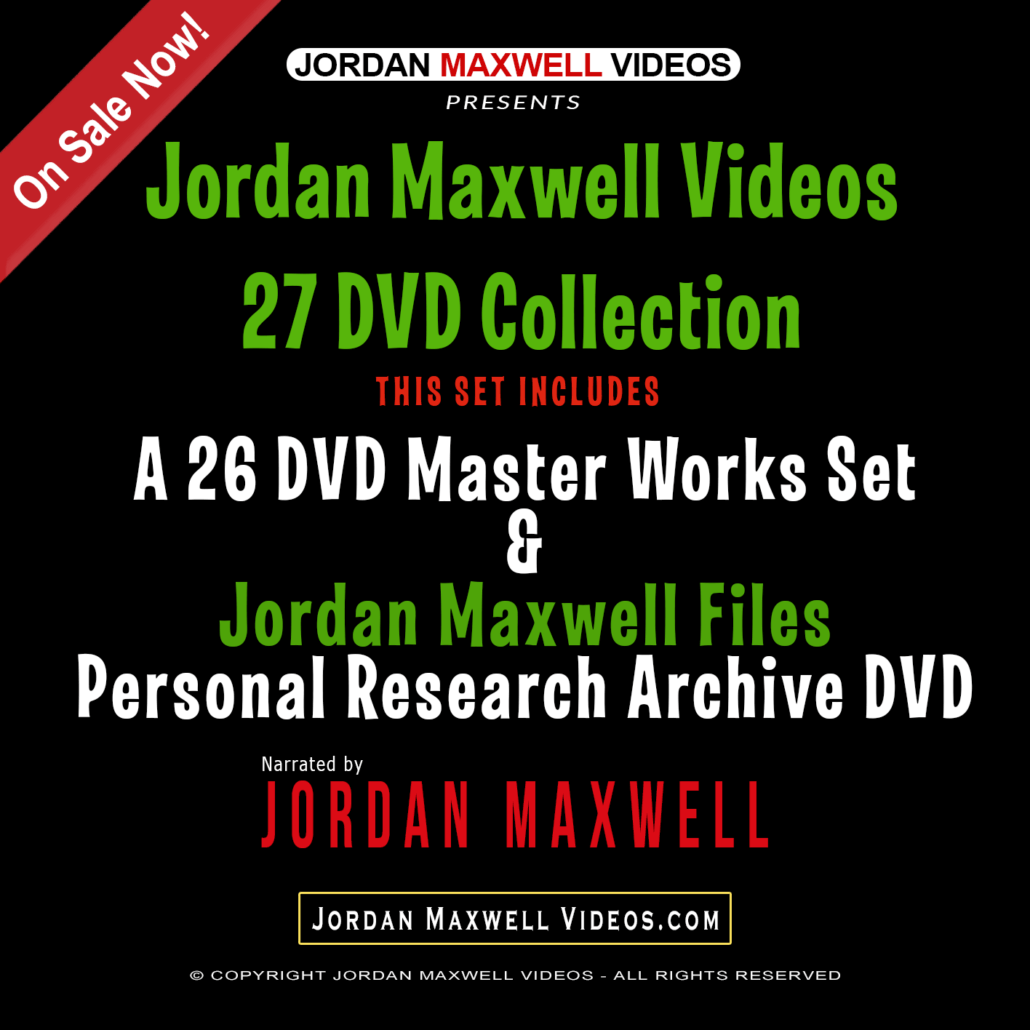 Jordan Maxwell is a preeminent researcher and independent scholar in the field of occult, symbols, government, secret societies and religious philosophy. His interest in these and a wide range of subjects began as far back as 1959.He served for three and a half years as the Editor of Truth Seeker Magazine, America's oldest Free thought journal, established in 1873. His work exploring the hidden foundations of western religions and secret societies have created enthusiastic responses from audiences around the world.
He has conducted dozens of intensive seminars and hosted his own radio talk shows. He guest starred on more than 600 radio shows, has written, produced and appeared in numerous television shows and documentaries.
One of his most memorable works, was three 2-hour specials for the CBS Television and the internationally acclaimed 5-part Ancient Mystery Series, devoted to ancient religions and their influence on world affairs today.
---
Wikipedia | Jordan Maxwell YouTube Channel
---

https://www.jordanmaxwellvideos.com/wp-content/uploads/2021/12/Jordan-Maxwell-495-400.png
400
495
Jordan Maxwell
https://www.jordanmaxwellvideos.com/wp-content/uploads/2023/01/Jordan-Maxwell_videos.gif
Jordan Maxwell
2021-12-25 00:58:30
2023-01-26 02:08:55
Jordan Maxwell Quotes