Jordan Maxwell Videos Copyright Statement
Jordan Maxwell Videos Copyright, Trademark, And Other Legal Information
This page contains information on Jordan Maxwell Videos material that is protected by copyright, including instructions on how to obtain permission to use copyrighted materials, information on the use and attribution of Jordan Maxwell Videos trademarks, and general legal information.
Introduction
Jordan Maxwell Videos maintains this website as a service to its members. We invite you to visit frequently to browse through our pages and download and copy materials for your personal use, subject to the restrictions outlined below.
Limitation of liability; Warranties Disclaimed
Information and documents provided on this website are provided "as is" without warranties of any kind, either express or implied. Jordan Maxwell Videos uses reasonable efforts to include accurate and up-to-date information on this website; it does not, however, make any warranties or representations as to its accuracy or completeness. Jordan Maxwell Videos periodically adds, changes, improves, or updates the information and documents on this website without notice. Jordan Maxwell Videos assumes no liability or responsibility for any errors or omissions in the content of our website. Your use of this website is at your own risk. Under no circumstances and under no legal theory shall Jordan Maxwell Videos, its suppliers, or any other party involved in creating, producing, or delivering this website's contents, be liable to you, or any other person for any indirect, direct, special, incidental, consequential, or any other kind of damages arising from your access to, or use of, this website or the information on the website.
THE FOREGOING ARE IN LIEU OF ALL OTHER WARRANTIES, WHETHER ORAL, WRITTEN, EXPRESS, IMPLIED OR STATUTORY. ALL WARRANTIES RELATED TO THE WEBSITE OR ITS CONTENTS ARE EXPRESSLY DISCLAIMED, INCLUDING BUT NOT LIMITED TO IMPLIED WARRANTIES OF FITNESS FOR A PARTICULAR PURPOSE, NONINFRINGEMENT, AND MERCHANTABILITY. SOME STATES DO NOT ALLOW EXCLUSIONS OF AN IMPLIED WARRANTY, SO THIS DISCLAIMER MAY NOT APPLY TO YOU AND YOU MAY HAVE OTHER LEGAL RIGHTS THAT VARY FROM STATE TO STATE OR BY JURISDICTION.
Link to third-party sites
This website contains links to third-party websites. The linked sites are not under the control of Jordan Maxwell Videos, and Jordan Maxwell Videos is not responsible for the contents of any linked site or any link contained in a linked site. Jordan Maxwell Videos is providing these links only as a convenience, and the inclusion of a link does not imply endorsement of the linked site by Jordan Maxwell Videos.
Applicable Laws
This website (excluding linked sites) is controlled by Jordan Maxwell Videos from its Nevada office. It can be accessed from all 50 states and unincorporated territories of the United States for America, as well as from other countries around the world. Since each of these places has laws that may differ from those of Nevada, by accessing this website both you and Jordan Maxwell Videos agree that the God's LAW, Man's LAW, The Common Law of United States for America, the statutes and laws of Nevada and without regard to the conflicts of laws principles thereof, will apply to all matters relating to use of this website.
Jordan Maxwell Videos makes no representation that materials on the website are appropriate or available for use in other locations, and accessing them from territories where their contents are illegal is prohibited. Those who choose to access this website do so at their own risks.
Policies on use of copyrighted materials and logos
Personal use of Jordan Maxwell Videos website documents. Jordan Maxwell Videos hereby authorizes you to view, copy, download, and print Jordan Maxwell Videos documents (such as columns, white papers, press releases, data sheets, and FAQs) that are available on this website, subject to the following conditions:
The documents may be used solely for personal, noncommercial, and informational purposes.
The documents may not be modified.
The following copyright notice and permission notice must appear in each document: Copyright © 2023 Jordan Maxwell Videos – All rights reserved. Jordan Maxwell Videos documents available from this website are protected by the Common Law Copyright, and the Copyright laws of the United States for America and International Treaties. Copyright, Trademark, and other proprietary notices may not be removed.
You may not reproduce, copy or redistribute the design or layout of the Jordan Maxwell Videos website, individual elements of the website design, or Jordan Maxwell Videos logos without the express prior written permission of Jordan Maxwell Videos.
Commercial use of Jordan Maxwell Videos website materials and screen shots
Reproduction, copying, or redistribution for commercial purposes of any materials or design elements on the Jordan Maxwell Videos website, including, without limitation, the design or layout of the Jordan Maxwell Videos website, individual elements of the website design, Jordan Maxwell Videos columns, white papers, press releases, data sheets or FAQs, is strictly prohibited without the express prior written permission of Jordan Maxwell Videos. Permission is granted only when certain limited criteria are met. To request such permission please send e-mail with the word permission in the subject line, and include the following information in the body of the message:
The Jordan Maxwell Videos content you wish to use, where and how will it be used (for example, a book cover, an advertisement, or a brochure), where and how copies will be distributed, and to what audience how and many copies will be produced and distributed when you intend to publish, what other non-Jordan Maxwell Videos materials will be associated with the Jordan Maxwell Videos content, your name, title, company, address, email address, and phone number.
We will evaluate your request as soon as possible. Jordan Maxwell Videos reserves all rights to refuse at Jordan Maxwell Videos sole discretion, permission to copy, distribute, broadcast, or publish any of its copyrighted material.
Licensed logo use
Use, reproduction, copying, or redistribution of Jordan Maxwell Videos logos is strictly prohibited without prior written permission from Jordan Maxwell Videos. If your organization has a preexisting agreement with Jordan Maxwell Videos, that agreement, along with the specific guidelines for each logo, will specify your rights and obligations regarding use of Jordan Maxwell Videos logos. Additional information for Jordan Maxwell Videos program members is available at the Jordan Maxwell Videos website. If you do not have an existing agreement with Jordan Maxwell Videos, you do not have permission to use Jordan Maxwell Videos logos.
---
Jordan Maxwell Videos offerings are provided via single fixed price donations.
Variable priced donations are also available. Please donate if you can!
---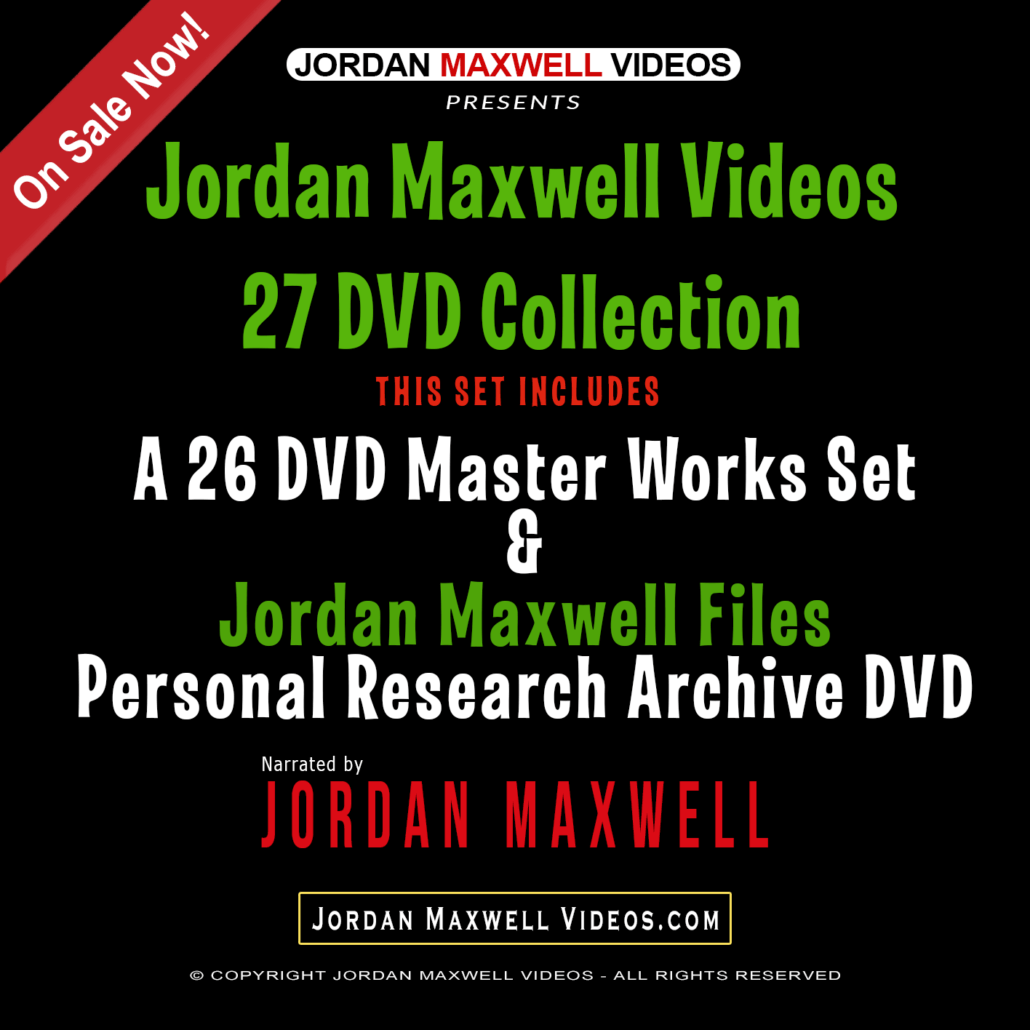 This sale has been extended until the end of the month!
Order Now!
---
The products on this website are for entertainment purposes and available by fixed price donation only. This websites and its associates assume no liability for the content, authenticity, accuracy, veracity, factual nature of the claims, statements, opinions, or views of Jordan Maxwell aka Russell Pine. Jordan Maxwell Videos ™