© 2016-2023 Jordan Maxwell Videos. All rights reserved.
The content, design, and graphics on this website are the intellectual property of Jordan Maxwell Videos and are protected by copyright laws. Any unauthorized use, reproduction, or distribution of the materials on this website without the written permission of Jordan Maxwell Videos is strictly prohibited.
You may not modify, copy, reproduce, republish, upload, post, transmit, or distribute any content from this website without prior written permission. Unauthorized use of the materials may violate copyright, trademark, and other applicable laws and could result in legal consequences.
Some portions of the content on this website may be submitted by users or third parties. Jordan Maxwell Videos makes reasonable efforts to ensure that user-submitted content does not infringe upon the intellectual property rights of others. However, Jordan Maxwell Videos does not guarantee the accuracy, reliability, or legality of user-submitted content. If you believe that any content on this website infringes your copyright or other intellectual property rights, please contact us promptly to address the issue.
All trademarks, service marks, logos, and trade names displayed on this website are the property of their respective owners. Any use of these marks and names without the express written consent of the owner is strictly prohibited.
For inquiries regarding the use of copyrighted material, permissions, or licensing, please contact us using our contact form:
Please note that this copyright notice is subject to change without prior notice. It is your responsibility to review this notice periodically to stay updated with any modifications.

Thank you for respecting our intellectual property rights.

Jordan Maxwell Videos www.jordanmaxwellvideos.com
---
Limitation of liability; Warranties Disclaimed
Information and documents provided on this website are provided "as is" without warranties of any kind, either express or implied. Jordan Maxwell Videos uses reasonable efforts to include accurate and up-to-date information on this website; it does not, however, make any warranties or representations as to its accuracy or completeness. Jordan Maxwell Videos periodically adds, changes, improves, or updates the information and documents on this website without notice. Jordan Maxwell Videos assumes no liability or responsibility for any errors or omissions in the content of our website. Your use of this website is at your own risk. Under no circumstances and under no legal theory shall Jordan Maxwell Videos, its suppliers, or any other party involved in creating, producing, or delivering this website's contents, be liable to you, or any other person for any indirect, direct, special, incidental, consequential, or any other kind of damages arising from your access to, or use of, this website or the information on the website.
THE FOREGOING ARE IN LIEU OF ALL OTHER WARRANTIES, WHETHER ORAL, WRITTEN, EXPRESS, IMPLIED OR STATUTORY. ALL WARRANTIES RELATED TO THE WEBSITE OR ITS CONTENTS ARE EXPRESSLY DISCLAIMED, INCLUDING BUT NOT LIMITED TO IMPLIED WARRANTIES OF FITNESS FOR A PARTICULAR PURPOSE, NONINFRINGEMENT, AND MERCHANTABILITY. SOME STATES DO NOT ALLOW EXCLUSIONS OF AN IMPLIED WARRANTY, SO THIS DISCLAIMER MAY NOT APPLY TO YOU AND YOU MAY HAVE OTHER LEGAL RIGHTS THAT VARY FROM STATE TO STATE OR BY JURISDICTION.
---
Jordan Maxwell Videos offerings are provided via single fixed price donations.
Variable priced donations are also available. Please donate if you can!
---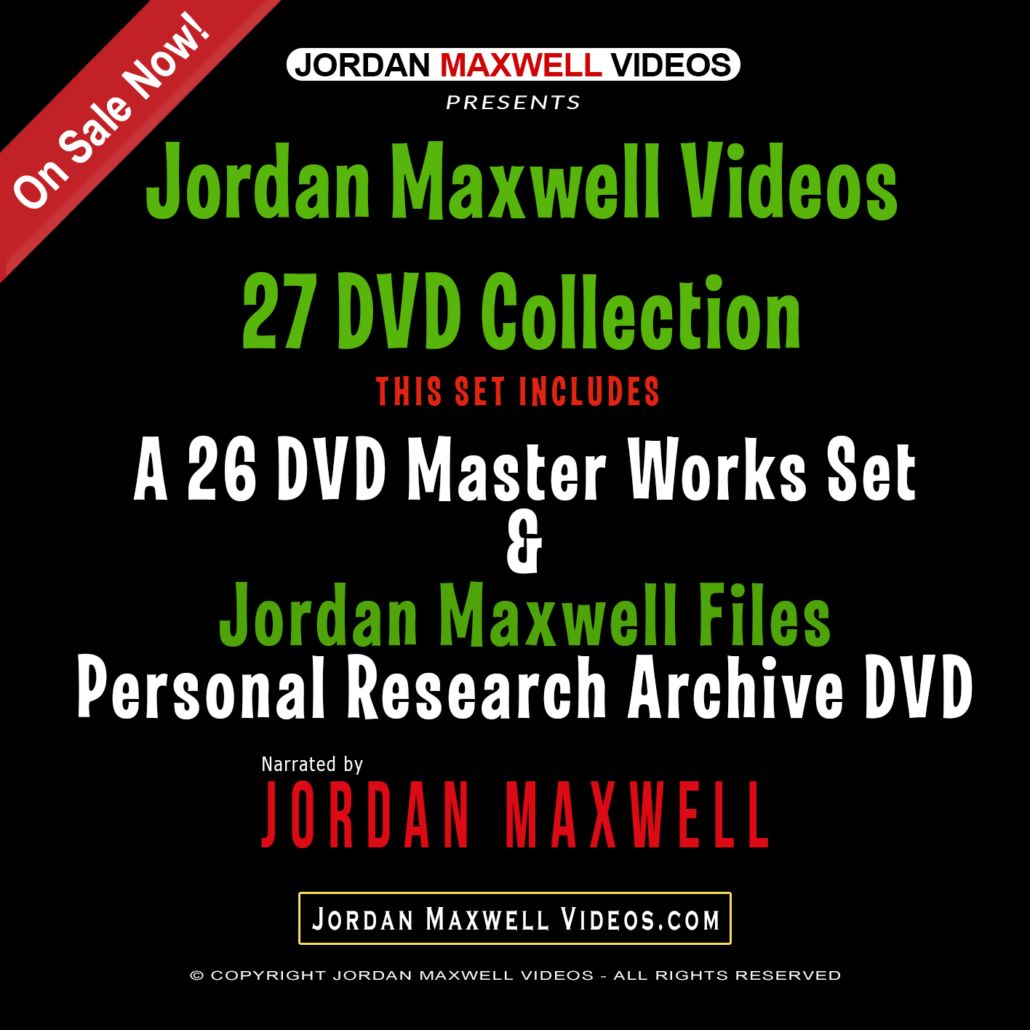 This sale has been extended until the end of the month!
Order Now!
---
The products on this website are for entertainment purposes and available by fixed price donation only. This websites and its associates assume no liability for the content, authenticity, accuracy, veracity, factual nature of the claims, statements, opinions, or views of Jordan Maxwell aka Russell Pine. Jordan Maxwell Videos