The Official Site for Jordan Maxwell Research Materials
#jordanmaxwell #jordanmaxwellresearch #jordanmaxwellvideos
Thank you for visiting. Our products are offered via fixed price donations. Look around at our current research materials. The entire Jordan Maxwell Videos DVD collection is on sale. Buy now!
We offer next day fulfillment and shipping on most orders via USPS. Tracking is available.

Our support team is dedicated to providing the best customer experience with any issues you may have.
Jordan Maxwell is a preeminent researcher and independent scholar in the field of occult, symbols, government, secret societies and religious philosophy. His interest in these and a wide range of subjects began as far back as 1959. He served for three and a half years as the Editor of Truth Seeker Magazine, America's oldest Free thought journal, established in 1873. His work exploring the hidden foundations of western religions and secret societies have created enthusiastic responses from audiences around the world.
He has conducted dozens of intensive seminars and hosted his own radio talk shows. He guest starred on more than 600 radio shows, has written, produced and appeared in numerous television shows and documentaries. One of his most memorable works, was three 2-hour specials for the CBS Television and the internationally acclaimed 5-part Ancient Mystery Series, devoted to ancient religions and their influence on world affairs today. Wikipedia
Jordan Maxwell
Jordan Maxwell, pseudonym of Russell Pine (December 28, 1940), is an American writer / researcher who deals with theology, secret societies, etymology and occultism. Maxwell is seen as a big name in the world of 'conspiracy theorists' and served as an example for various authors and researchers in the area, including Michael Tsarion and David Icke.
Maxwell was an editor for Truth Seeker Magazine for three years, made documentaries for CBS TV Network and presented his own radio show under the banner of ABC. One of Maxwell's hobby horses, in addition to symbolism and word interpretation, is the so-called 'astro-theology' (not conceived by him); a theory that states that religions are based on astronomical events.
Thus, like many other faiths in the world, the story of Jesus (birth, crucifixion, resurrection, 12 apostles) is based on the faith of the sun god Horus. Remarkably, all of these beliefs, although sometimes minimal, show similarities to the cult of Horus.
Jordan Maxwell | Official Website for research materials. Buy Jordan Maxwell Research Videos and The Entire Jordan Maxwell DVD Collection, direct, from the personal collection of Jordan Maxwell. Jordan Maxwell is one of the preeminent research specialists in the world, and it is his intention to enlighten and enrich your life with his work. Jordan Maxwell videos are available exclusively from this site by variable priced donations.
27 DVD Research Collection. Buy Now, Click Here!
---
Jordan Maxwell Videos offerings are provided via single fixed price donations.
Variable priced donations are also available. Please donate if you can!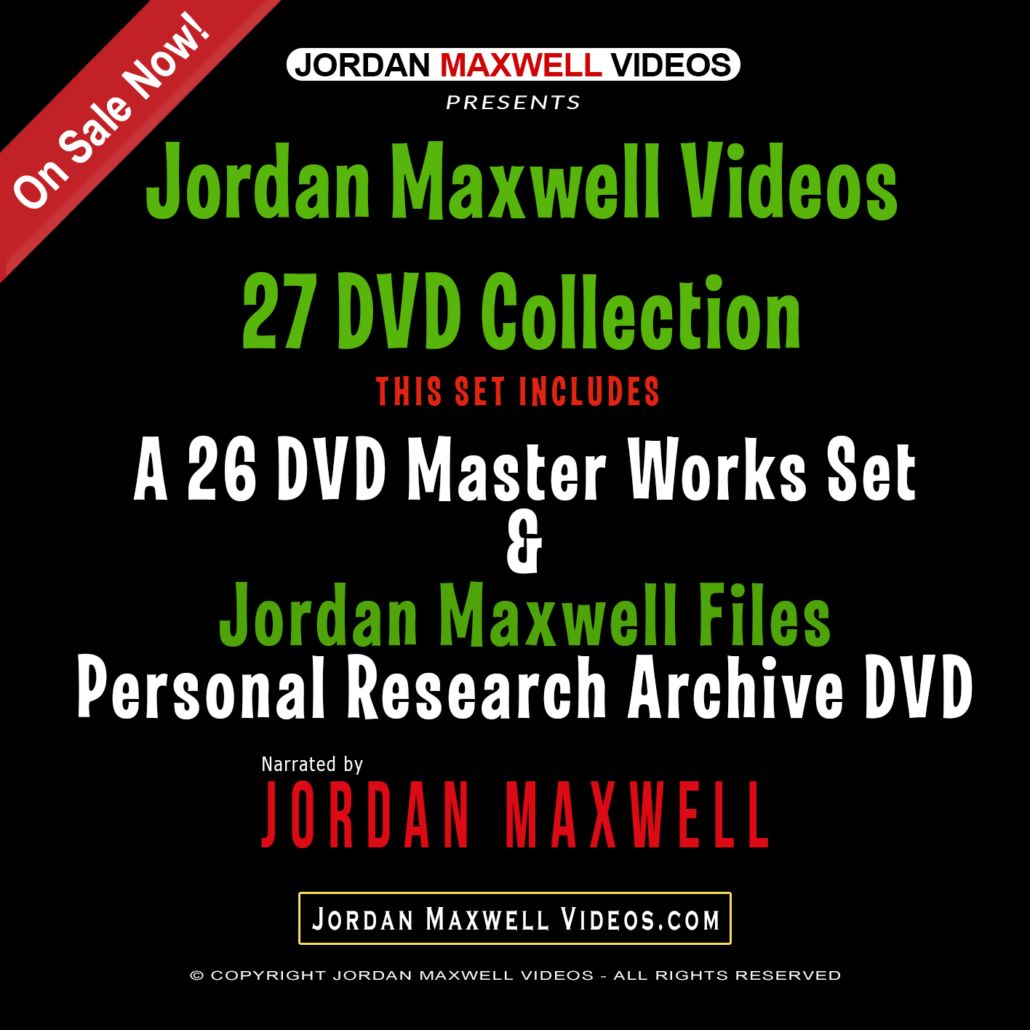 This sale has been extended until the end of the month!
Order Now!
---
The products on this website are for entertainment purposes and available by fixed price donation only. This websites and its associates assume no liability for the content, authenticity, accuracy, veracity, factual nature of the claims, statements, opinions, or views of Jordan Maxwell aka Russell Pine. Jordan Maxwell Videos ™